This page will give me the opportunity to discuss particular Brazilian Jazz groups and artists that are important to the development of the music but might not be as well known outside of Brazil as they should be..... Joe




4 - 2 = 2, Beginning To Play With Balanco (Brasilian Swing)

When I first started trying to play Brazilian Jazz, there wasn't a manual, no method book, no songbooks, very few available recordings. It was a time before the internet and, everything that's now available, wasn't. It was like the time in Jazz before the Real Book was printed --- we had to figure things out by listening, as strange as that now sounds. This time around, instead of posting about a particular band, I thought I would discuss one of the first things I learned about playing Brazilian Jazz.

It was May of 1988. I had arrived in Rio de Janeiro at 8:00 A.M. on an overnight flight from New York on Varig Airlines. I was there to play a five-night-a-week, three week gig at the #1 Jazz club in Rio, People Jazz Bar. My journalist friend, Jose Domingos Raffaelli, who had promoted me to the club owner a few months before, picked me up at the airport. We piled my suitcases and my trusty 1952 Gibson ES-175 into his Volkswagon Beetle and off we went. Not to the apartment I was staying at, but to the nightclub that I was to begin playing at that evening. There would be newspaper interviews to do in the afternoon and three television stations would interview me live at the club later that night. But right now I needed to have a cafezinho with the club owner and meet with my two accompanists, bassist Paulo Russo and drummer Claudio Caribe. And maybe even run down a couple of the tunes.

We arrived at the nightclub, met everyone, chatted, shared coffees and then got down to business (which I would soon learn is different than getting down to business in the U.S.). I called a few Jazz standards that I knew we'd all know to get the rehearsal rolling. Then I figured on impressing them by calling one of the few brazilian tunes that I knew at the time, A.C. Jobim's Wave. I counted us off – "1...2...3...4..." and away we went. About 8 bars in, the drummer stopped playing and I looked over at the bassist who was shaking his head in a not so encouraging manner. I'm was thinking, "Why is this not happening? I've played this tune dozens of times back home". Claudio walked over to me and explained that I was playing the song wrong. Wrong? Wait … what? The wrong changes, the wrong key, I'm out of tune? No, no, you're playing in 4/4. Yes, of course, it's written in 4/4 time. No man, it doesn't matter what that printed lead sheet says, Brazilian music is in 2/4 time. Play the song with the same tempo but instead of dividing the measure into 4 beats, divide it into 2. For me, this was a very important moment. Caetano Veloso has said that the first time he heard Joao Gilberto's record, Chega de Saudade, it was like Enlightenment. He went from the Dark Ages to the Age of Enlightenment, his perception of everything changed, what he thought sounded good before now sounded old fashioned and the world itself seem to make sense for the first time. When we replayed the tune with me thinking in 2/4, the song opened up and became more relaxed, I was able to say more with my notes and didn't feel the pressure to put more notes in. My hurried, frantic way of playing was replaced by a more conversation-like way of playing, where I could play notes by hearing a lyric phrase in my head and then have that phrase and choice of notes go directly to my fingers. In Jazz terms, it was like having listened exclusively to Charlie Parker and then hearing The Gerry Mulligan-Chet Baker pianoless quartet. What was even more interesting is that once I understood this new idea, I began listening to Brazilian music differently. I could hear this new feel and could also hear the idea of anticipation that is such a big part of Samba. The "and" after the 2 seemed so natural now since it wasn't so crowded into the measure. (But that's another "lesson" for another time.)

And thus began my quest: to better understand Brazilian music. I was fortunate that I made many friends on that first trip to Rio who wanted to share their music with. One person in particular, the great pianist, Luiz Eca, took me under his wing. He sat in with my trio, he invited me to sit in with his quintet, and he took the time to carefully select and suggest who I should go and listen to in Rio on my nights off. Once I got back to the US, Raffaelli started sending me Lps on a regular basis (this was pre-Tower records and online CD buying) and writing me long letters (pre-email) discussing different important Samba Jazz groups from the 60s: Tamba Trio, Balanco Trio, Copa Trio, Rio 65 Trio, Sambrasa Trio, Os Cinco Pados, Zimbo Trio, Os Cobras, Copa 5 and Copa 7, and the list went on and on

Nowadays, all the original recordings are out there, as well as the songbooks and sheet music, but what's not written is the subtle stuff that you pick up by listening. Don't be afraid to use your ears, usually it's going to be more important than just having the written score or someone's watered down recorded version. As always, Enjoy! More to come...





---
JOAO DONATO — pianist, composer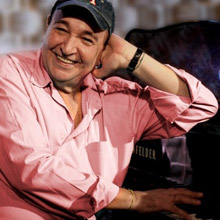 No serious study of Brazilian Jazz would be complete without including pianist Joao Donato. It was the advanced harmony that he and pianist Johnny Alf used in their 1950s compositions that laid the foundation from which Bossa Nova sprang. When thinking about Bossa's developmental years (late 50s) we could think of several people as key and we could use an analogy for the fact that each one contributed an important component to the origination of this new style. Think of bricks building a wall. One brick was the melodies of Tom Jobim, one brick was Joao Gilberto's unique way of sing and another was his unique way of playing the violao*. Another brick would be the balanco (the "swing") of the samba rhythms and certainly another brick would be the piano chords of Donato and Johnny Alf's. All these bricks built the Bossa Nova wall. Without one of these bricks, the wall would have collapsed before completion.
Donato has stated that he was a fan of North American Jazz and it was this type of extended harmony that Jazz musicians were using, 13th chords, major 9 chords, etc., that he incorporated into his melodies. Now combine that with his love for Afro Cuban rhythms and you have key ingredients to his "sound" or style. Listen to some of his classic songs like Amazonas, Bananeira, Lugar Comum or Sugar Cane Breeze and you'll hear that the songs have as much of an underlying Cuban feel as they do Samba.
I have included here a track called Sambolero from a CD that I think is his best, entitled Amazonas. It's a piano trio date on the short-lived and now defunct label, Elephant Records. One of the things I like about this CD in general and, specifically this track, is how relaxed his playing is. He never tries to jam in too many notes but instead lets his phrases "breathe" so the listener can always hear an appreciate the underlying rhythm. If the great Bill Evans were to play Brasilian music, this would probably be the sound we'd hear.
"Sambolero" (MP3)
Joao is alive and still swinging. I urge to check out his older stuff but also his more recent releases. He's had a resurgence of releases lately and, unlike some musicians who lose their edge as they get older, he's still happening musically.
Here's a video of the trio playing Amazonas. When I went to Rio to play for three weeks in 1988, I would visit other clubs after my gig to check things out. It seems like at every club I went to, the musicians were playing this tune. I came to find out that it's a standard, a tune that every musician knows, in Brasil. Its sort of like All The Things You Are is for North American Jazz musicians.
Watch "Joao Donato Trio plays Amazonas" on YouTube
* Joao Gilberto put the batucada (the afro brasilian percussion) on the violao by using the fingers of his right hand to recreate the rhythms being played by the various layered Afro Brasilian percussion instruments. His thumb replicated the high and low pulse of the surdo drums, his other fingers played the accents of the tamborim and ganza and so forth. Thus the full sound of six or eight musicians playing the "hard" sound of percussion is all there on the violao but with a "softer" feel, which blends well with his "softer", whisper-like way of singing.
---
BADEN POWELL

Up to this point I've been dealing with a lot of pianists and piano trios. Now it's time to deal with guitar. The guy who has it all together is Baden Powell. Named in honor of the founder of the Boy Scouts by his father, who admired Sir Robert Baden Powell, young Baden took up the guitar, or the violao as it's called in Brasil, at an early age. For a great site with loads of pictures, a COMPLETE discography with album covers and song titles, transcriptions of his songs, etc., go here:
www.brazil-on-guitar.de/en/baden_powell/home.html
"Vou Por Ai" (MP3)
Baden's recordings usually feature a multitude of Brasilian music styles. He might record a bossa, then a choro, follow that with a seresta, then a samba, etc. Some of his recordings are solo guitar, some trio, duo, large group, with orchestra, and so on, but his "jazziest" recording in my opinion is Tempo Feliz from 1966, originally released on Roberto Quartin's Forma label. I missed the Lp version of this recording. But I got a bootleg version when I was in Brasil when CDs first came out. It had some of the titles reversed in order in the CD jacket. Later on I bought the Japanese reissue with great sound. I also have it in the 13 CD boxset, O Mestre do Violao Brasileiro, that came out in 2003 on the Universal label. It's a quartet recording with Baden, Edson Lobo on bass, Chico Batera on drums and my pal, Mauricio Einhorn, on harmonica. Think of a Jazz quartet recording with the harmonica in place of the sax or trumpet. To reinforce that feeling of a 1960s Blue Note label release they even start out the set with, what else, a blues. The first song is Baden's "Vou Por Ai". I've included a sample here. It took me a couple of listenings to realize it's a 12 bar minor blues, similar to Dizzy Gilliespie's "Birks' Works". Right from the get-go the guys show what this recording is all about. Mauricio and Baden start off by themselves, stating the melody out of time, sometimes in unison and also contrapuntally. Then there's a unison interlude played by the guitar and bass, with the drummer joining in with brushes. Then everyone's in with the harmonica stating the melody once and then with Baden playing a counterline the second time. Baden takes the first solo, with the bass doing fills in addition to walking. Baden shows his chops in his solo, doubling, tripling and quadrupling the time with his single notes. He had incredible technique, due in part to his early classical training. But unlike some guitarists who feel they have to always show off their chops, Baden was a very tasteful, melodic player. His solos always make sense musically. He's not just playing notes but creating new melodies in his solos. Then Mauricio takes a solo, very melodic, which is his trademark. In all of Mauricio's recordings he always manages to create a very warm sound. This isn't always the easiest thing to do when you're dealing with a metallic instrument that is difficult to maneuver around on. The bass solo follows and you can hear the Scott LaFaro influence in Edson's playing. Baden takes a second solo before the return of the melody, again with Mauricio and Baden playing contrapuntally. And then Baden strikes the final resolving, but unexpected, major chord.
The rest of the album is comprised of a couple of trio tracks, more quartet, a solo guitar piece and even a swinging jazz waltz composed by Mauricio, entitled "Pro Forma".
When you listen to Baden you almost hear a history of the guitar in Brasilian music. His style encompasses all the previous styles of Brasilian music so that even if he's playing a samba you can hear traces of choro, or elements of modinha in his bossas. To me, this is what makes certain Jazz recordings special. When I listen to the Miles Davis and Gil Evans collaborations I can hear traces of all that came before them in Jazz. When I hear Cannonaball's solo on "Flamenco Sketches" from Kind Of Blue I can hear elements of the Blues, Spirituals, Work Songs, Bebop, Cool, New Orleans, Swing, etc.
Now here's the funny part about this recording: when I told Baden that this was one of my favorites, he just smiled at me. When I told Mauricio the same thing on another occasion, he told me that Baden was drunk for the entire recording session. Man, I need to start drinking! Caiparinha, por favor.



---
SAMBALANÇO TRIO

Hi, Everyone. This time around I'd like to talk about a piano/bass/drums trio that recorded just three albums but, in my opinion, these three albums were important to the development of the Brasilian Jazz genre. The group is the Sambalanço Trio, led by pianist Cesar Camargo Mariano. The name itself is a play on words, combining the words "samba" and "balanço" which means "swinging".

When I first heard the Sambalanço Trio (on a poor quality bootleg CD from Brazil) the question that sprang to mind was "WHO is that drummer? Este gato está balançando! (This cat is swinging!)" This guy was playing in a very loose, relaxed but melodic manner. Well, it turns out that the drummer in this early 1960s group was Airto Moreira, also known simply as Airto. After these records were made Airto would come to the U.S. and focus more on playing percussion than trap drumset. He would be hired by trumpeter Miles Davis for his jazz/rock fusion band, hired to play trap drums with saxophonist Stan Getz (check him out on Getz' 'Captain Marvel' recording) and hired by Chick Corea for the all acoustic first version of Chick's group, Return To Forever.
On these three Sambalanço Trio recordings Airto is playing trap drumset only and right from the first note he takes charge, making it his mission to push, prod, energize and inspire pianist Cesar and bassist Humberto Clayber to create perhaps the most exciting, swinging music to come from a trio. Airto also plays drums like a melody player. That is, he's always aware of the melody and his playing reflects it. He's not merely laying down a rhythm to go along with the melody but he's hitting and accenting certain notes within the melody along with Cesar. And you can always hear the end of a section of the song in his playing. When you get to the bridge he lets you know it. Not just during the melody portion but, more importantly, during the soloing. This helps give a sense of form to the solo. What is also interesting about his playing is that he and Cesar will make "hits" behind the bass solo like a horn section would "hit" behind a soloist. This puts the focus on the soloists' notes but also inspires him and gives him ample space to create.
The songs that the group plays are a mix of originals and brasilian jazz standards. Tunes like "Nos E O Mar", "Balanco Zona Sul", "Nana", "Estamos Ai" (composed by my pal, Mauricio Einhorn) and others. But what separates this group from others is their arrangements that breathe life into overplayed tunes that you might have thought you never wanted to hear again. Their interpretation raises the tune to a new level. A good example of this is the tune I've included here, "Samba de Verao". This tune, composed by Marcos and Paulo Sergio Valle, became a big hit here in the U.S. when organist Walter Wanderley released a version with the English title, "Summer Samba". It seems like very wedding band plays this tune when a rumba is requested. I always thought I could live the rest of my life without this song played again. In fact the first couple of times I played the CD with this tune on it I would leave this song out. When I finally gave in and gave it a listen I was amazed how they made this tune swing again, like the composers originally intended. It reminded me of the Bill Evans Trio playing "Alice In Wonderland" or Miles playing "Someday My Prince Will Come": the interpretation allows the listener to realize new possibilities for the song.
After listening to that poor quality of that first bootleg I went on a quest to find better pressings of all three of the releases:
Sambalanço Trio, Vol. 1, Samblues
Sambalanço Trio, Vol. 2
Sambalanço Trio, Reencontro Com Sambalanço Trio
The Japanese label, Bomba, reissued all three releases. They are a little expensive but well worth it because the sound is fantastic. Two of the three have also been reissued by Ubatuqui Records from Spain. And just when I was convinced the Sambalanço Trio only recorded these three recordings I came across one of the RCA 100 Anos de Musica releases: "A Vontade Mesmo", from trombonist Raulzinho (Raul de Souza), in which he's accompanied by the Trio. It's great to hear the Trio in this different context, even playing a couple of jazz tunes like "Jordu" and "Fly Me To The Moon". There is another rather obscure recording, entitled "Lennie Dale E O Sambalanço Trio", that was released on the Elenco label in 1965 but I haven't heard this and I'm not sure if it ever made it to CD.
I hope I whet your appetite a little for this great trio. They are well worth seeking out. Good luck...Joe



---
THE TAMBA TRIO

Hi, everyone. This month's installment of the Brasilian Jazz page is on The Tamba Trio, comprised of pianist Luis Eça (full name: Luis Mainzl da Cunha de Eça), bassist/ saxophonist/ flautist Bebeto (Adalberto Jose de Castilho e Souza) and drummer/ percussionist Helcio Paschoal Milito.
Right from the start, when they debuted at Rio's famous Bottle's nightclub in Beco das Garrafas on March 19, 1962, this trio showed that they were something special and unique. They seemed to combine the hard swing of some of the other Brasilian piano trios with the smooth relaxed vocal aspect of Bossa Nova. This trio was able to achieve a fuller, larger ensemble sound than the other piano trios of the day because of the vocals of all three members (usually in three part harmony) and the doubling of Bebeto on flute or saxophone. This combined with the smooth brushwork of Helcio (rare in a Brasilian drummer of this time period) and the piano work of classically trained Luis, which could run the gamut from hard and swinging to quiet and introspective, created the perfect balance to achieve a group sound that was multi-dimensional. Once you add in the empathy that all three had with one another, on the same level as the classic Bill Evans trio or the Miles Davis Quintet, you have a trio that appeals to musicians and listeners on all levels and is capable of pushing the music up a couple of notches.
On their Brasilian and U.S. recordings on the Philips and A&M labels from 1962 through 1969 the music showcased their talent for performing Luis Eça compositions and interpreting Bossa Nova hits of the time period. Their arrangements used their three part vocals as part of the melody (singing the words or using wordless vocals) or singing background harmony to the flute melody. This is what they do on the sound sample I have included here, the Menescal/ Boscolli tune "O Barquinho" (My Little Boat). The first half of the melody is played by the piano alternating with wordless vocals and on the second half the flute takes over. The second time it's the flute for the first half and wordless vocals for the second. Then there's a modulation to a new key for the piano lead and the flute solo, then another modulation for the piano solo. Some have criticized their arrangements, which break up the different parts of the melody, as being too structured and most listeners will find the Bossa hits certainly more complex than the original versions but never less swinging. A good example of this is Carlos Lyra's "Influencia Do Jazz" or Mauricio Einhorn's "Batida Diferente", both included along with "O Barquinho" on the double CD, Tamba Trio Classics, Polygram 536-958-2, a compilation CD of songs from several of their early Philips recordings from 1962 to 1968.
I had the privilege of working with Luis Eça for several weeks in 1988 at People Jazz Bar in Rio and he was still swinging and inventive in his arrangements. I was performing with a trio of bassist Paulo Russo and the late drummer Claudio Caribe. My group played from 11:00 P.M. to 1:00 A.M. and then Luis' quintet came on from 2:00 to 4:00. He would come in early and sit in with my group and I would stay late and sit in with his group. In between sets we would have conversations about music, both jazz and Brasilian. He was equally knowledgeable about both.
I once again highly recommend searching for any Tamba Trio recording. You'll gain a new perspective on some of those "tried and true" Brasilian classics that you think you know.



---
SERGIO MENDES & THE BOSSA RIO SEXTET

This month I take a look at Sergio Mendes and his group, The Bossa Rio Sextet.
First of all, get that image that you have of Sergio Mendes out of your head. You know what I mean: Sergio with his goatee, dressed in a nehru jacket and love beads, leading his group, Brasil '66, through watered down versions of Mas Que Nada, The Look Of Love and other psuedo-bossa hits. That stuff was all well and good for what it was and made him an international success ($$$) but first and foremost Sergio was a great Brazilian Jazz pianist and bandleader. One only has to check out his early instrumental recordings (stay away from anything that says Brasil '65, '66, '67, etc., these are the vocal-oriented groups) and you can hear that this guy could swing!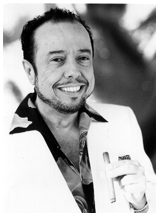 Playing professionally by the age of sixteen, Sergio eventually atracted the attention of Antonio Carlos Jobim who took him under his wing, introducing him to the inner circle of Rio's musicians. Eventually he formed his own group, The Bossa Rio Sextet (not to be confused with the group, Bossa Rio, which was a vocal-oriented group that included Pery Ribeiro and pianist Manfredo Fest). The Bossa Rio Sextet was a mainstay at Beco das Garrafas. This was the area in Rio that was often refered to as the "52nd Street of Rio" because like "Swing Street" in New York it included nightclub after nightclub where the new music of the time, in this case Bossa Nova, developed and was featured. But Sergio's group always seemed to stand out from the other groups playing in Beco das Garrafas. His group emphasized horns (usually 2 or 3) instead of vocalists like the bossa groups and his group was larger in size than the piano led trios such as Bossa Tres, The Sambalanco Trio and others. The Bossa Rio Sextet brought a broader, more energetic sound to the music scene. It could be compared to the arrival on the 50s U.S. Jazz scene of some of the Hard Bop groups like the Jazz Messengers or the Clifford Brown/ Max Roach Quintet after listening to the West Coast Cool style groups.
Sergio's first recording as a leader was Dance Moderno, recorded in Rio in 1961 and it featured visiting U.S. musicians Kenny Dorham, Herbie Mann and Curtis Fuller. The recording is a mixture of U.S. Jazz standards (Love For Sale, On Green Dolphin Street, Nica's Dream) and Brazilian tunes that had already become classics (Outra Vez, Tristeza De Nos Dois, Olhou Para Mim). U.S. saxophonist Cannonball Adderly was so impressed with Sergio and his group that he brought them to New York in 1962 to record his record, Cannonball's Bossa Nova on Riverside Records. This was later reissued as Cannonball Goes Latin. And to illustrate Sergio's importance to the recording it was later issued as an Italian bootleg CD with Sergio listed as the leader: Sergio Mendes' Bossa Nova featuring Cannonball Adderly. The recording features the compostions of my musical partner, harmonica player Mauricio Einhorn, including Batida Diferente, Joyce's Samba, Sambop and the "single" from the record, Clouds (Nuvem).
Recently released is a CD which combines two of Sergio's early Lps, The Swinger From Rio (1966), Atlantic Records, and The Beat Of Brazil (1967), first released on Philips and later released on Atlantic. I feel that this CD is indicative of Sergio and the group's best work, illustrating his contribution to Brazilian Jazz, showcasing his wonderful, hard-driving, swinging piano playing, and showing how he really put his personal stamp on the music. On The Swinger From Rio (recorded in New York) the personel is Sergio on piano, Antonio Carlos Jobim on guitar (!), Tiao Neto on bass and Chico DeSouza on drums. They are joined on different tracks by Phil Woods, Art Farmer and Hubert Laws. The tunes are all Brazilian, standards like Maria Moita, Primavera, Favela and a tune by Jobim, Sabinha Bossa Nova, that would later be known as So Tinha De Ser Com Voce. The North American jazz players adapt well to the Brazilian songs and the Brazilians, having played this style of Brazilian Jazz for years, really swing, combining the best elements of both styles.
On The Beat Of Brazil (recorded in Rio) the group is the working Bossa Rio Sextet (plus an additional featured soloist) of the time with Tiao Neto once again holding down the bass chair. He was also 1/3 of the Bossa Tres group along with the drummer on this date, the legendary drummer Edison Machado, who some say was the first to play samba on the trap drumset. Tiao would later go on to be a member of the Bola Sete Trio and was the (electric) bassist for several years in Jobim's last group. Jobim himself doesn't play on this date but instead provides all the arrangements. By the use of two trombones, Edson Maciel (slide) and Raul de Souza (valve), affectionately listed as Raulzinho, and two tenor sax players, Hector Bisignani and Aurino Ferreira, one hears the classic small group sound of the Hard Bop group. Aurino normally played baritone sax in the group. He had a big sound and a swinging style that was very reminiscent of North American Serge Chaloff. Edson Maciel was also an outstanding soloist who so impressed Quincy Jones that Quincy offered him a job in 1967. What's interesting about the similarity of this group and the U.S. Hard Bop groups is that I'm told that when Horace Silver first went to Rio for three weeks he spent practically every night in Beco das Garrafas listening to this group. Now the question becomes: Who influenced who?
The sound bite I have included here is "So Danco Samba" from The Swinger From Rio session. It includes the classic intro from the Getz/ Gilberto recording of three years earlier, this time played by the composer himself, Jobim, on guitar. Check out Sergio's comping and fills behind the melody. Then listen to the way he authoratatively takes the first solo after the melody. He places his notes and builds his solo against the Brazilian beat in a way that suggests a combination of Count Basie, John Lewis and Horace Silver but at the same time making a personal statement.
Sadly, after The Beat Of Brazil session Sergio put his focus on his vocal group which had become a commercial success. It seems that as his success went up, his artistic values went down. But his instrumental groups still remain important to the development of Brazilian Jazz.
I hope you enjoyed this profile. I encourage you to seek out these recordings. You won't be disappointed. Don't forget to keep checking back to this site. There's more to come on the history and development of Brazilian Jazz.



---
ZIMBO TRIO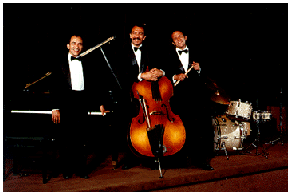 This month's profile is on The Zimbo Trio, nicknamed "The Modern Jazz Quartet of Brazil" because of their length of time together. They've actually surpassed the MJQ in longevity and now hold the record for a Jazz group playing together with the same members. The MJQ was formed in 1955 and ended in 1994, but had disbanded from 1974 to 1981. The Zimbo Trio, which consists of Amilton Godoy on piano, Luiz Chaves on acoustic bass and Rubens Barsotti on drums, was formed in 1964 and continues to this day. The group has made over 60 recordings which have included theme records dedicated to the music of one composer such as Milton Nascimento and Tom Jobim. They've also made several recordings with important singers such as Elizeth Cardoso and Elis Regina. Luis Chaves also holds the special honor of being the first Brazilian bass player to have a record issued under his name — "Projejeçäo (Projection), issued in 1965.
The fact that these musicians have been together so long is definitely reflected in their music which features tight arrangements, shifting rhythms and time signatures, unison passages, varied dynamics and straightahead swinging. The interplay and empathy with each other that they achieve can only be reached by three musicians who know each other very well. These three don't just musically follow each other, but they can actually anticipate where each other will go.
In 1994 the group received the Prëmio Sharp award (the Brazilian version of the Grammy) for Best Instrumental Group for their CD, "Aquarela Do Brasil", Movieplay BS-231. One of their best CDs is "Caminhos Cruzados, The Zimbo Tri Interpreta Tom Jobim", Movieplay BS-259, where they perform the music of Antonio Carlos Jobim. The soundbite I have included here is their version of"Garota De lpanema" (The Girl From lpanema). Listen to the way they take this 30 year old song and reinvent it with their arrangement. They apply different rhythms to different sections of the song. One section might be a partido alto rhythm, another a straight samba, another has a 6/8 feel. They are perfectly in sync with each other as far as the dynamics, the feel, the energy, etc.
One thing that I find interesting about the group is that they always play and record Brazilian music exclusively. It runs the gamut from Bossa Nova to Samba, to the music of some of the MPB composers like Djavan and Ivan Lins, to the music of some of the more traditional composers like Ary Barroso and Villa-Lobos. The only exception to this, when they are playing North American Jazz standards like "There Will Never Be Another You", "Autumn Leaves" and Charlie Parker's "My Little Suede Shoes," is on a recording made in 1979 entitled "Sonny Stitt In Brasil With The Zimbo Trio" - Fresh Sounds FSR-CDI 18 They had accompanied Sonny Stitt on a South American tour and then went into the studio to record. For years the Lp version of this recording was one of those collector's items that musicians talked about but few had actually heard as it was only available in Brazil. Fortunately Fresh Sounds released it on CD several years ago.
In 1973 the group started a music school in Sao Paulo (their hometown) called CLAM, Centre Livro de Aprendizado Musical (Musical Center For Free Studies). This school is very important for teaching and exposing the music to a younger generation. Their most famous student is pianist, and now singer, Eliane Elias.
Well I hope you enjoyed this mini profile. I encourage you to seek out the recordings of this great group. You won't be disappointed. Don't forget to keep checking back to this site. Upcoming profiles will include The Sambalanço Trio (a group from the 60s that featured Airto on trap drumset). The Tamba Trio, The Bossa Jazz Trio (a group that included Amilton Godoy's younger brother, Amilson, on piano), Tenorio Jr. ( a wonderful Bill Evans-influenced pianist who literally disappeared in the 70s under tragic and mysterious circumstances), pianists Dom Salvador and Manfredo Fest, and much more. Abraços!